About us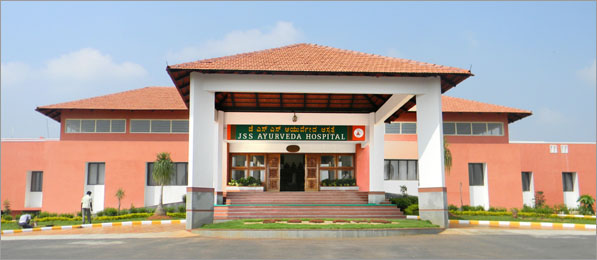 Ayurveda, an ancient Indian medicine system, is becoming increasingly popular in recent times. The JSS Ayurveda Hospital became operational on MG Road, Mysuru, in August 1992, with all specialty treatments. The aim of the hospital was to provide quality treatment to the public, especially the rural poor.
The 15 acers vast campus is situated in serene outskirts under the foot hills of Chamundi Hill, away from the hustle and the bustle of the city. The hospital is surrounded by splendid Ayurveda herb garden from which most medicines are produced. This sets a serene environment for healing and rejuvenation.
The JSS Ayurveda Hospital provides authentic Ayurveda experience. The highly qualified and friendly doctors use the Ayurveda approach to cure the root cause of any illness over the treatment plant to cure the symptoms. Our trained and experienced therapists make healing process an altogether enjoyable and rejuvenating one.
Initially, when the hospital was set up, it catered to the needs of the poor and rural people of Mysuru, Chamarajanagara, Coorg and Mandya districts but today, its reputation is such that, people from world over visit the hospital looking for treatment in Ayurveda for their ailments.
The hospital also has spacious and well ventilated private and speciality wards. The hospital also has several operation theatres and emergency wards to cater to critical and emergency cases. OPD wards of the hospital cater to the needs of thousands of patients every day.
The hospital also conducts yoga classes as part of the treatment by trained gurus. As yoga takes all in the path of bliss, perfection and all round personality development, this is especially useful for those looking to relieve stress and start their treatment with a positive note.
The Ayurveda hospital is famously known for its rejuvenating and detoxification treatments of Panchakarma, Upakrama, Virechana, Rasayana and weight management therapies.