About us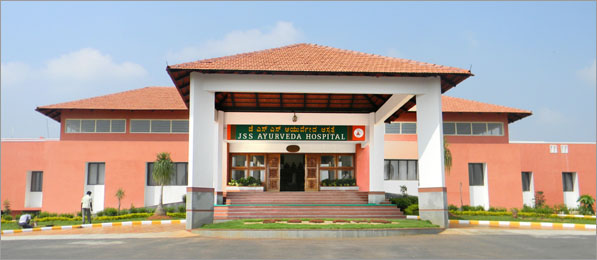 Ayurveda,, an ancient Indian medicine system, is becoming increasingly popular in recent times. The JSS Ayurveda Hospital became operational on MG Road, Mysuru, in August 1992, with all speciality treatments. The hospital aimed to provide quality treatment to the public, especially the rural poor.
The 15 acres large campus is situated in serene outskirts under the foothills of Chamundi Hills, away from the hustle and bustle of the city. The hospital is surrounded by splendid Ayurveda herb garden from which most medicines are produced. This sets a serene environment for healing and rejuvenation.
The JSS Ayurveda Hospital provides authentic Ayurveda experience. The highly qualified and friendly doctors use the Ayurveda approach to cure the root cause of any illness over the treatment plant to cure the symptoms. Our trained and experienced therapists make healing process an altogether enjoyable and rejuvenating one.
Initially, when the hospital was set up, it catered to the needs of the poor and rural people of Mysuru, Chamarajanagara, Coorg and Mandya districts but today, its reputation is such that, people from the world over visit the hospital looking for treatment in Ayurveda for their ailments.
The hospital also has spacious and well ventilated private and speciality wards. The hospital also has several operation theatres and emergency wards to cater to critical and emergency cases. OPD wards of the hospital cater to the needs of thousands of patients every day.
The hospital also conducts yoga classes as part of the treatment by trained gurus. As yoga takes all in the path of bliss, perfection and all-round personality development, this is especially useful for those looking to relieve stress and start their treatment with a positive note.
The Ayurveda hospital is famously known for its rejuvenating and detoxification treatments of Panchakarma, Upakrama, Virechana, Rasayana and weight management therapies.
Working Hours:
Monday – Saturday: OPD Consultation 7.30AM to 7.30PM (Working Hours)
Sunday: OPD Consultation 9.00AM to 4.30PM
Pharmacy:
Our Hospital has a wide variety of medicines in accordance with Ayurveda treatment modalities. Genuine Ayurveda medicines are well stocked with medicines of different pharma companies.
Lift facility available for disabled patients.
Lab:
Well-equipped lab with ECG tests etc.,
Treatment rooms:
Spacious well equipped treatment room with facilities to do all treatment.
Health Insurance:
Subject terms and condition with medical insurance companies as per policy purchased by patient's reimbursement facility are available. We are proud that for many insurance partners, JSS Ayurveda provides root cause solutions for various chronic diseases.
In the Medical reimbursement claim service, the insured has to pay all his/ her medical bills and then submit these original papers along with the Claim Form to the Insurance Company for reimbursement by themselves. Reimbursement for Ayurvedic treatments is offered by many insurance companies with different coverage plans which varies with each insurance policies. We will give all the necessary documents for insurance reimbursements. More insurance companies will soon join hands with JSS Ayurveda Hospital.
Security:
24x 7 security for your convenience and much comfort.
Herbal Garden:
Well maintained well irrigated land with treated water for herbal garden.
Medicine preparation:
Isolated area for preparing medicines organic, hygiene as per requirement for ongoing treatments.
Operation Theatre (Minor):
Well-equipped unique infrastructure with integrative facilities where techniques of surgical management are used for the best outcome.
Benefits from our healthcare packages:
Complete analysis of health condition
Tangible health benefits in addition to feeling good factor
Get comprehensive detoxification through authentic Panchakarma therapies.
Reduce risk of diseases
Minor problems can be tackled side by side
Experience the ideal atmosphere to relax, rewind and rejuvenate while getting treated.
Can be excellent family health getaway.
Social Commitment:
Commitment to extend quality clinical services to economically weak customers at a cost affordable by them. JSS Ayurveda organises rural camps at villages with free consultation and medicine.
Also Ayurveda awareness camps – "Ayur life- Way of life" being conducted at corporates in Mysore for Corporate people is getting good response across.