Immuno Kidz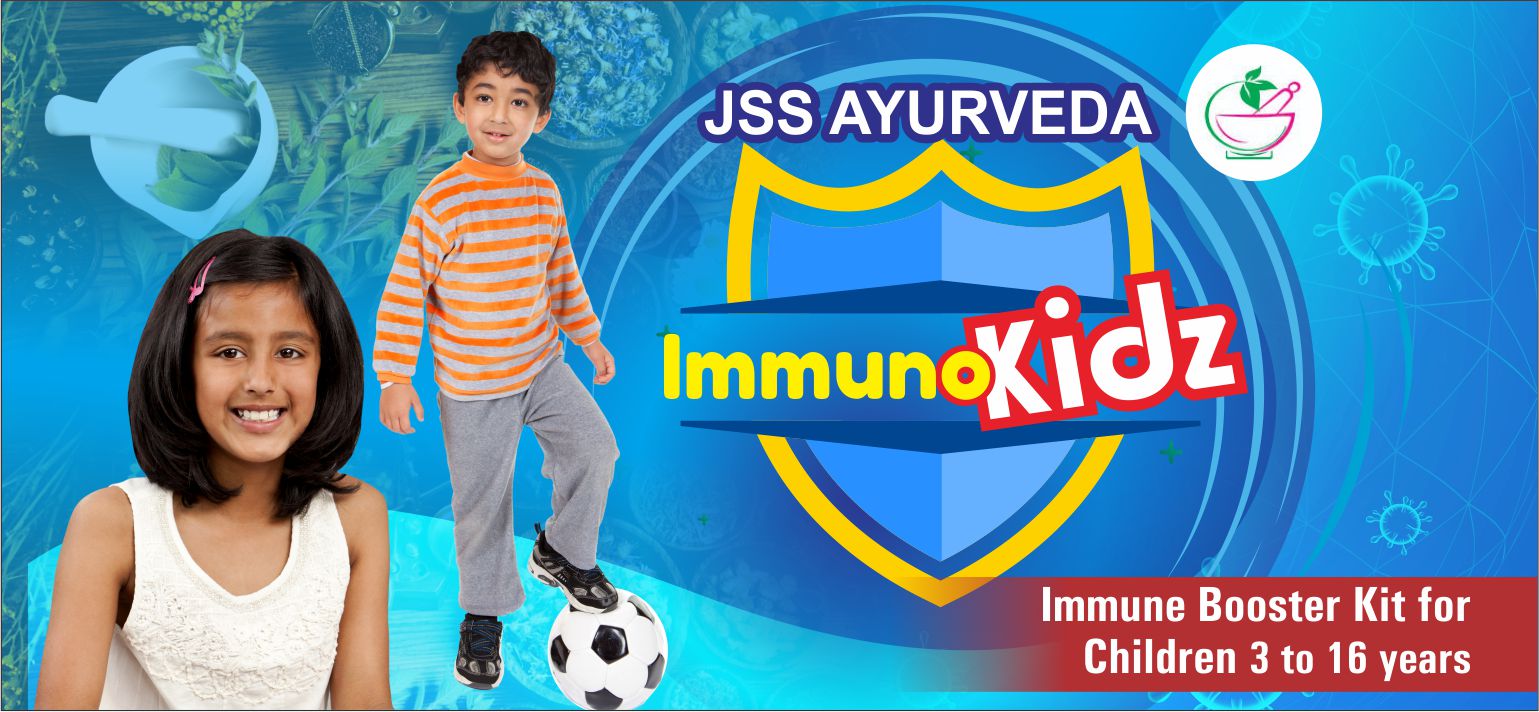 Ayurveda is designated as the science of life, owing to the unique combination of all essential factors needed for preservation of health and management of diseases. Child health and immunity is always a prime focus of attention for every parent. In this challenging time of COVID-19 pandemic it is very essential to follow the precautionary measures of maintaining personal hygiene, maintaining social distance and boost up the immunity.
JSS Ayurveda Medical College & Hospital, Mysuru, has come up with a kit to boost the immunity of the children, which can even protect them from the forthcoming COVID crisis.
For immunity boosting in children Immuno Kidz is introduced
It includes 3 formulations
Suvarnaprashana Drops
Ingredients: Swarna Bhasma (purified gold calx), Vacha (Acorus calamus), Guduchi (Tinospora cordifolia), Shankapushpi (Convolvulus prostratus), Aswagandha (Withania somnifera), Pippali (Piper longum), Brahmi (Bacopa monnieri), Honey.
This formulation is being widely practised by the clinicians since many years to boost the immunity and also for the overall development in children.
Dosage:
3-5 years: 5 drops
6-10 years: 6 drops
11 -16 years: 8 drops
To be administered orally once daily, in the morning before food.
Uramarunnu Tablet
Ingredients: Dronapushpi (Lucus aspera), Shigru (Moringa olifera), Hingu (assafoetida) Kachora (Curcuma zedoaria), Jatiphala (Myrstica fragrans), Machika (Quercus infectoria), Vacha (Acorus calamus), Lasuna (Allium sativum)
This is a folklore preparation widely practised in southern parts of India as a digestive and immune enhancer among the children.
Dosage:
3-9 years: 1 tablet morning daily before food.
10-16 years: 1 tablet morning and evening daily before food.
Candy – Delicious Medicated Sugar Candy
Ingredients: Pippali (Piper longum), Amalaki (Embelica officinalis), Guduchi (Tinospora cordifolia), Saindhava Lavana (Rock salt), Khanda Sarkara (Sugar candy).
Increases appetite, protect the children from common cold, respiratory disorders and enhance the immunity.
Dosage: 3-9 years: 1 candy daily 10-16 years: 2 candies daily.
This kit will provide medicines for 2 months to the children of age group 3-9 years, whereas for 1 month to the children of age group 10-16 years
For more information and consultation call: 9980760076 / 9645315591