Immune Booster Kit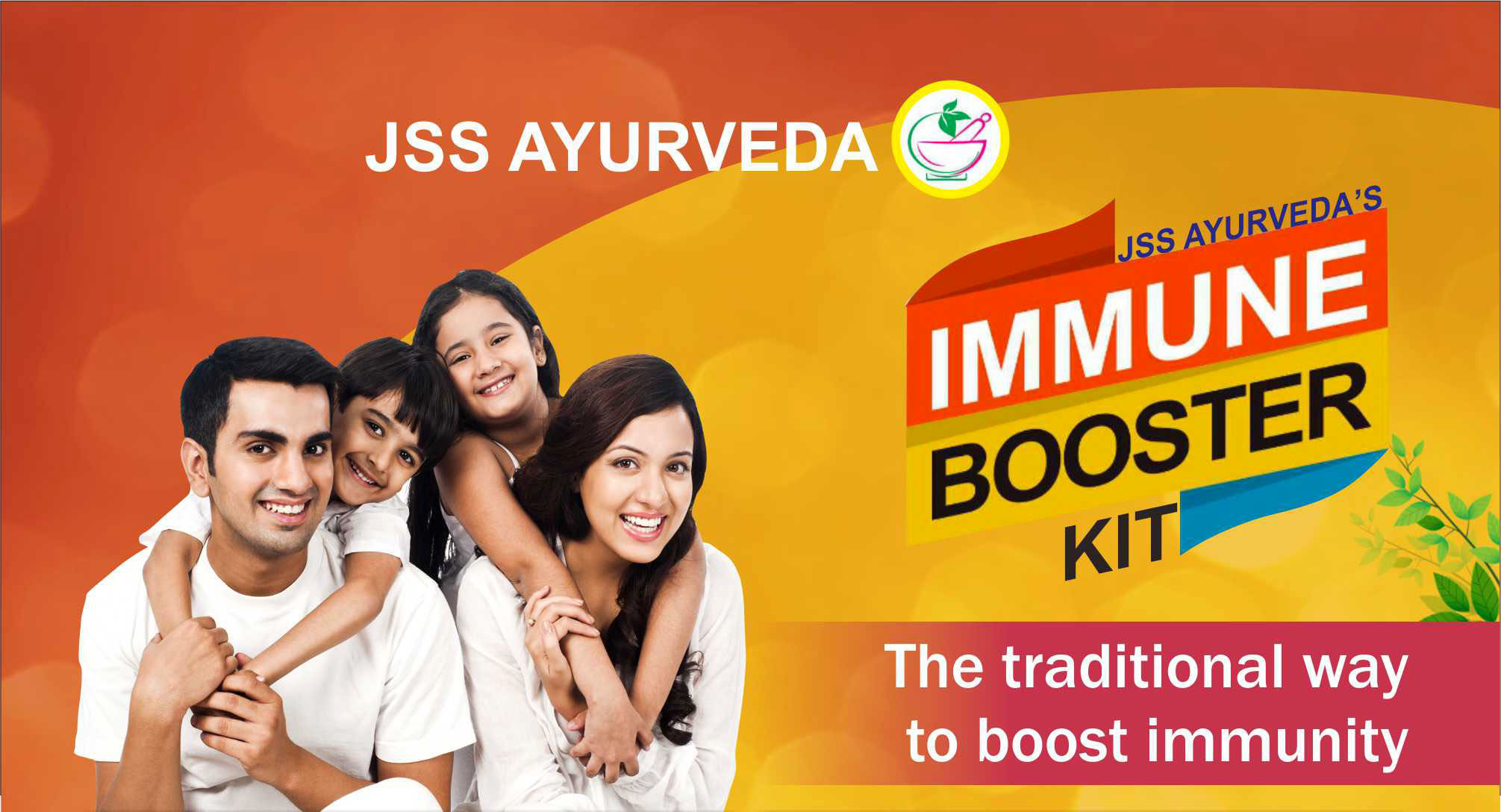 Ayurveda is not just a medical science but the way of life. It has always given equal prominence to both preventive and curative measures for the maintenance of health.
At this unprecedented time of COVID19 outbreak, enhancing body's defence mechanism is vital. Immunity can be natural, time bound or acquired. It's important to ensure strong immunity level with conscious efforts. In this regard, JSS Ayurveda hospital presents immune boosting kit for the benefit of mankind.
Immunity kit comprises of:
Chyavanaprash/ Swamala Compound: Health enhancing Rasayana
Haridra Rasa: Extract of Turmeric
Kashaya Churna (Immune Boosting Powder)
Rakshogna Dhoopa (Fumigation stick)
Anu Taila: Nasal Drops
Ministry of AYUSH Recommended Measures:
Drink warm water throughout the day;
Maintain hygiene;
Spices like Haldi (Turmeric), Jeera (Cumin), Dhaniya (Coriander), Lashun (Garlic) are recommended in cooking;
Golden milk – Drink a glass of milk (150 ml) adding half tsp of turmeric powder once or twice a day;
Daily practice of Yoga, Pranayama and Meditation for atleast 30 minutes
Instructions and Benefits of the Medicines:
Chyavanaprash/ Swamala Compound: It is a well-known powerful immune booster. This antioxidant rich Ayurvedic health supplement promotes health and longevity. Additionally Swamala Compound contains gold and silver.
How to use: 1-2 tsp should be consumed on empty stomach, morning and evening followed by a glass of warm milk.
Haridra Rasa (Turmeric Extract): Haldi/Turmeric has best anti-oxidant, anti-inflammatory, anti-thrombotic, anti-poinson, anti-infective and antiseptic properties. It enhances the body's defence mechanism when taken with warm milk.
How to use: Consume 1-2 drops with warm milk or warm water once or twice daily.
Rakshogna Dhoopa: Ingredients are Guggulu, Neem leaves, Haritaki, Vacha, White Mustard, Barly and Sambrani.
How to use: Burn the stick and fumigate all corners of house or office premises.
Benefits: Fumigation prevents microbes and harmful pathogens.
Anu Taila Nasya: Anu Taila nasal drops cleanses, purifies and strengthens the nasal passage. Prevents microbes' entry into the respiratory system. It also helps in prevention of allergies and infections.
How to use: Put 2 drops into each nostrils early morning and while going out.
JSS Immune Booster Kits are now available on AMAZON. Order Now!
Order Now! Immune Booster Kit – CHYAVANAPRASH
Order Now! Immune Booster Kit – SWAMALA COMPOUND
For more information call: 99806 56297 / 95914 33944